Axie Infinity, one of a few Vietnamese technology startups with global influence, has gained far more value than the Vietnamese game Flappy Bird that was internationally popular a number of years ago.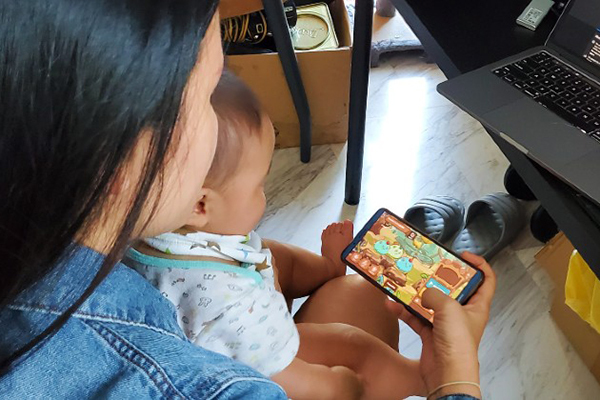 Axie Infinity has caught special attention from the public over the last year, as it was developed by Sky Mavis, a Vietnamese game studio with headquarters in HCM City, in 2017.
Axie Infinity builds a universe of pets called 'axies'. Players command their army of axies to struggle with other players and receive awards. They can exchange, buy/sell characters with each other and convert in-game scores into money by selling to other players thanks to Blockchain technology.
Axie Infinity was conceived four years ago, but it has only recently become well known.
The Vietnamese game has two million players each day.
According to DappRadar, Axie Infinity now ranks fifth among the world's most popular decentralized applications. The total in-game character trading value has reached $3.6 billion, with more than 10 million transactions.
Axie Infinity players are diverse. They are not only cryptocurrency investors, but also office workers, housewives and those who have lost jobs because of Covid-19. A lot of people in the Philippines, Malaysia, Venezuela and the US survived the pandemic thanks to the money they earned from playing Axie Infinity.
Axie Infinity is a global phenomenon which has triggered the "game playing to earn" trend in the cryptocurrency market.
Axie Infinity is the achievement of Sky Mavis, a game studio founded by CEO Nguyen Thanh Trung, born in 1992, and four others. Three out of five founders of the project are Vietnamese. The other two are from the US and Norway. Sky Mavis employs 40 staff and 80 percent of them are Vietnamese.
Trung said in the future, Axie Infinity will use more foreign workers, especially for positions related to creativity. Vietnamese people have advantages in technical skills.
According to Trung, at first, Axie Infinity was developed as a project that served the hobby of the founder. Later, when the game became attractive to gamers and received positive reactions from the community, Trung decided to quit his job to develop the project.
Asked about the success, Trung said Sky Mavis is attentive to the building of a community, and developing players and treating them the best way.
Product developers need to be open to opinions and suggestions, but need to be persistent with their view. If they follow all players' opinions, they will 'plough roughly halfway'. Axie Infinity listens to gamers' opinions and tries to satisfy them.
In the first period of Axie Infinity development, founders directly talked to gamers and answered every message through Discord. This created direct interactions between the game developers and users, which is an important part and culture of Axie Infinity.
Thanks to the attention to community development, if new players have questions about the game, they can receive support from the community of Axie Infinity players, and there is no need for the game developers to intervene.
"Culture is something which is very difficult to be built within a short time. In order to obtain a community, we cannot buy with money, but have to build it every day. Only by doing this can Axie Infinity build a community to accompany it," Trung said.
Axie Infinity experienced a long difficult period before it became famous.
The capital to develop the game was raised by exchanging shares, as in the the spirit of a startup.
Instead of paying attention to token prices in the cryptocurrency market, Axie Infinity founders were more interested in the product. The startup has recently successfully called for $150 million worth of capital in series B round. It was valued at $3 billion. 
Trong Dat
The Sipher company of Vietnamese businessman Nguyen Trung Tin has received US$6.8 million in investment in the latest capital raising round.
Vietnamese game producer Sky Mavis, the creator of the blockchain-based game Axie Infinity, has successfully raised US$152 million as part of its Series B funding round, according to Blockworks.
 
Tags: