Decklar Resources Inc. (TSX-V: DKL) (OTCQX: DKLRF) (FSE: A1U1) ( the "Company" or "Decklar") is pleased to provide an update on operational activities relating to the transportation and export of crude oil produced from the Oza Oil Field in Nigeria.
Decklar and its co-venturer Millenium Oil & Gas Company Limited ("Millenium") are pleased to announce that the 7,800 barrels of crude oil ("bbls") previously delivered to the Umugini Pipeline Infrastructure Limited crude handling facilities has now been delivered to the Forcados crude oil export terminal. The 7,800 bbls are ready for export pending the completion of certain repairs to the offshore loading system. In the meantime, an additional 30,000 bbls has been produced from the Oza Oil Field and is currently being stored in tanks at the Oza-1 wellsite. These 30,000 bbls will be the initial barrels transported to the new export facilities, as detailed below. Once part of this crude has been shipped from the Oza Oil Field tanks, the Oza-1 well will be brought back onto production, with the ultimate goal being the provision of a stable, ongoing supply of crude oil into new alternative export facilities.
Decklar and Millenium are also pleased to announce that an agreement has also been reached to transport and sell Oza Oil Field crude oil to a company that owns and operates a small crude oil refinery in Edo State, Nigeria. The agreement provides for an initial sale of 10,000 bbls. The parties are also in discussions to increase the sale quantity to 30,000 bbls and to possibly agree a minimum monthly quantity of barrels of Oza Oil Field crude to be sold to the oil refinery. It is anticipated that all required government permits will be finalized and in place in the next three to four weeks.
Separately, agreements have been executed to truck crude oil from the Oza Oil Field to a 45,000 barrel tank farm located in Akwete. The short-term goal is to transport approximately 1,100 barrels of oil per day from the Oza Oil Field to the storage tanks at Akwete. Once the volumes at the Akwete oil tank exceed 15,000 barrels, barges will load and transport the crude to an offshore floating storage and offloading unit ("FSO").
The barging to an FSO will provide Decklar and Millenium with the ability to produce and transport larger and more stable volumes of crude oil from the Oza Oil Field and avoid the use of pipelines in areas that continue to have problems with availability, delays and losses. While the trucking and barging of crude oil involves more complex logistics, it is expected to be more reliable and cost effective than utilizing trucking and pipelines. It is anticipated that the required government permits can be finalized and in place for oil to start being transported to the Akwete oil storage tank in the next four to five weeks. All efforts are being made to expedite and complete the necessary arrangements and obtain the required approvals.
Sanmi Famuyide, CEO of Decklar Resources, said "the new crude export arrangements, including the sale of the Oza crude oil in storage, sale of future production to a local refinery, and trucking crude oil from the Oza Oil Field to the Akwete tank farm for barging to an FSO, will allow Decklar to significantly increase deliveries of oil to markets through improved logistics and alternative export facilities. These new and existing export alternatives will allow Decklar to generate revenue in the near future as we look forward to the commencement of more efficient crude oil transport and exports from the Oza field."
For further information:
Sanmi Famuyide
Chief Executive Officer    Telephone: +234 703 332 2265
Email: sanmi@decklarresources.com
David Halpin
Chief Financial Officer    Telephone: +1 403 816 3029
Email: david.halpin@decklarresources.com
Investor Relations: info@decklarresources.com
Neither the TSX Venture Exchange nor its Regulation Services Provider (as that term is defined in policies of the TSX Venture Exchange) accepts responsibility for the adequacy or accuracy of this release.
Cautionary Language
Certain statements made and information contained herein constitute "forward-looking information" (within the meaning of applicable Canadian securities legislation), including, but not limited to, statements regarding: stabilized production rates of the Oza-1 well and timing thereof and delivery of such production to trucks for offloading at an oil refinery or storage tanks, the barging of crude oil to an FSO, the export and sale of volumes of crude oil, the final execution of necessary agreements to transport and sell crude oil, and the successful obtaining of required government and other permits and licenses. All statements in this news release, other than statements of historical facts, are forward-looking statements. Such statements and information (together, "forward looking statements") relate to future events or the Company's future performance, business prospects or opportunities.
All statements other than statements of historical fact may be forward-looking statements. Any statements that express or involve discussions with respect to predictions, expectations, beliefs, plans, projections, objectives, assumptions or future events or performance (often, but not always, using words or phrases such as "seek", "anticipate", "plan", "continue", "estimate", "expect, "may", "will", "project", "predict", "potential", "targeting", "intend", "could", "might", "should", "believe" and similar expressions) are not statements of historical fact and may be "forward-looking statements". Forward-looking statements involve known and unknown risks, uncertainties and other factors that may cause actual results or events to differ materially from those anticipated in such forward-looking statements. The Company believes that the expectations reflected in those forward-looking statements are reasonable, but no assurance can be given that these expectations will prove to be correct and such forward-looking statements should not be unduly relied upon. The Company does not intend, and does not assume any obligation, to update these forward-looking statements, except as required by applicable laws. These forward-looking statements involve risks and uncertainties relating to, among other things, counterparty risk, changes in oil prices, results of exploration and development activities, competition in the oil and gas industry, uninsured risks, energy transition risks, regulatory changes, defects in title, availability of materials and equipment, timeliness of government or other regulatory approvals, actual performance of facilities, availability of financing on reasonable terms, availability of third party service providers, equipment and processes relative to specifications and expectations and unanticipated environmental impacts on operations. Actual results may differ materially from those expressed or implied by such forward-looking statements.
The Company provides no assurance that forward-looking statements will prove to be accurate, as actual results and future events could differ materially from those anticipated in such statements. Accordingly, readers should not place undue reliance on forward-looking statements. The Company does not assume the obligation to revise or update these forward-looking statements after the date of this document or to revise them to reflect the occurrence of future unanticipated events, except as may be required under applicable securities laws.


News Provided by GlobeNewswire via QuoteMedia
Nigeria is the biggest oil producer in Africa. It holds the largest oil and natural gas reserves on the continent and is one of the world's largest exporters of liquefied natural gas (LNG). With crude oil prices rising, this African nation presents investors with world-class investment and production potential in one of the world's most prolific hydrocarbon basins, the Niger Delta.
In 2020, the country announced plans to increase its oil reserves, including condensates, substantially to 40 billion barrels by 2025. With a current uplift in exploration programs from other proven undeveloped marginal fields, getting entry-level access to Nigeria's exploration and unparalleled production potential could mean significant returns for willing investors.
Decklar Resources Inc. (TSXV: DKL,OTCQX: DKLRF) is an independent international oil & gas company focused on low-risk appraisal and development opportunities in the prolific West African region. Decklar is currently focused on its flagship Oza Oil Field in Nigeria.
The Oza Oil Field contains up to 12 zones of conventional stacked sands, allowing for vertical drilling and conventional horizontal development drilling. Leveraging excellent infrastructure in a prolific oil & gas jurisdiction presents excellent production and development opportunities.
Over the next 12 months, Decklar expects extensive well drilling and exciting development activities at the Oza Oil Field. Its two-phase development program in 2021 and into 2022 could lead to production levels as high as between 5,000 and 10,000 barrels per day with high-margin, high-quality oil, according to Decklar Resources CEO, Duncan T. Blount.
In March 2021, the company announced it completed a private placement financing for approximately US$3.7 million. Proceeds were put immediately towards advancing operational activities to re-enter the Oza-1 by contracting a drilling rig. In August 2021, Decklar has advanced its re-entry and development plans where pulling of existing tubing and 5 ½ inch casing from the Oza-1 wellbore has been successfully completed, and the 9 ⅝ inch casing was cleaned out. Surface testing facilities are currently being installed, and it is anticipated that testing activities on the L2.6 zone are expected to commence early next week with the initial perforation and flow operations.
The company operates a tight share structure with a fully-diluted share capital of 110,608,818. Its acquisition of Decklar Petroleum Ltd. in 2020 pushed the company closer to becoming a more dominant player in the oil & gas space with this high-quality development project with near-term production potential.
Decklar Resources is dedicated to oil & gas best practices and supporting local communities through various government initiatives, indigenous partnerships, and sustainable project development. Likewise, its emphasis on local community development manifests in its ability to create opportunities to support the independent indigenous oil & gas sector and ensure stakeholder satisfaction.
The leadership team of Decklar Resources comprises top experts with years of focused experience in all aspects of Nigerian oil & gas development, local community relations, financial management, and capital markets. Combined, they equip the company with a proven team that can deliver excellent growth potential and fast-tracked development and production possibilities.
The Oza Field is an onshore conventional oil field in the northern part of Oil Mining Lease (OML) 11, operated by Shell and located in the eastern Niger Delta of Abia State, Nigeria. The concession covers a 20 square kilometer area carved out of OML 11 in 2003 as part of the Government's Marginal Field Development Program. Strategic positioning places Oza Field close to other producing fields operated by Shell Petroleum Development Company, including Isimiri, Obeakpu, Afam, Obigbo, and Umuosi.
The Oza Field contains upwards of 12 major target zones of conventional stacked sands, allowing for vertical drilling and horizontal development drilling. Additionally, Shell has previously drilled three wells in the Oza Field, which produced over 1.0 million barrels cumulatively with 2,000 barrels per day per well of 35°/43° API gravity light / medium grade crude oil. Field structure analysis has also outlined several additional low-risk appraisal and exploration targets across the Oza Field.
The next steps for the project include a two-phase development program, including a six to twelve-month Oza Field re-entry and development drilling program, followed by another well development program scheduled for the second half of 2021 and into 2022. Decklar expects these development targets to increase production to approximately 5,000 to 10,000 barrels per day in conjunction with the property's excellent infrastructure, already in place.
Duncan T. Blount has over 13 years of experience focused on the natural resources sector. He was previously the head of Emerging & Frontier Market Commodities at RWC Partners, responsible for developing their commodity and natural resources portfolio strategy. Mr. Blount has been an early investor in numerous public and private West African oil & gas companies throughout his career. He also has experience in physical minerals trading and structuring off-take agreements.
Paula Kember is a Canadian chartered accountant with over 25 years of financial and administrative experience in the mining industry. From 1996 to 2006, she served as VP of Finance of Philex Gold Inc. and previously as a financial officer of Corona Corporation and a director of PolyMet Mining Corporation.
Sanmi Famuyide has over 20 years of experience focused on structuring natural resources and infrastructure transactions in West Africa. He is the former strategic advisor and subsequently head of Business Development at Lekoil Limited. He was also the head of Oil & Gas – Marginal Fields and Upstream Independents at Guaranty Trust Bank in Lagos, where he arranged the financings of many Nigerian independents. In addition, Mr. Famuyide has held executive positions at FBN Capital and MineQore Resources.
David Halpin has over 25 years of experience in management and as a finance and accounting consultant for public and private Canadian and international resource companies.
He is the former CFO and senior financial advisor for Mart Resources Inc., a TSX-listed company with oil production in Nigeria that had a peak market capitalization of over CAD$750 million. He was also a director of a TSX-V listed company focused on exploring oil & gas opportunities in Saskatchewan and Alberta and was a founder and CFO of a publicly listed healthcare and insurance software company.
Zack Malone is a highly experienced oil well drilling and work-over specialist. He has over 25 years of experience working and managing drilling rig operations with the past 15 years working in Nigeria. Mr. Malone's prior experience included working as rig manager for Precision Drilling Canada and other rig contractors. Mr. Malone's certification includes second-line supervisor's well control, well service blowout prevention, fall protection, fall rescue, rigging and hoisting, safety management & regulatory awareness for wellsite supervision.
Bill Foose has over 35 years of experience working in the international oil and gas production and processing equipment sector. He held various positions with Barton Instruments before starting OilPro Production Equipment in 1997. OilPro was heavily involved in providing production equipment for domestic and international projects throughout Africa, the Middle East and other oil producing countries. Many of OilPro's African projects were centered around Nigeria. Mr. Foose previously served on the board of Sunocean Energy.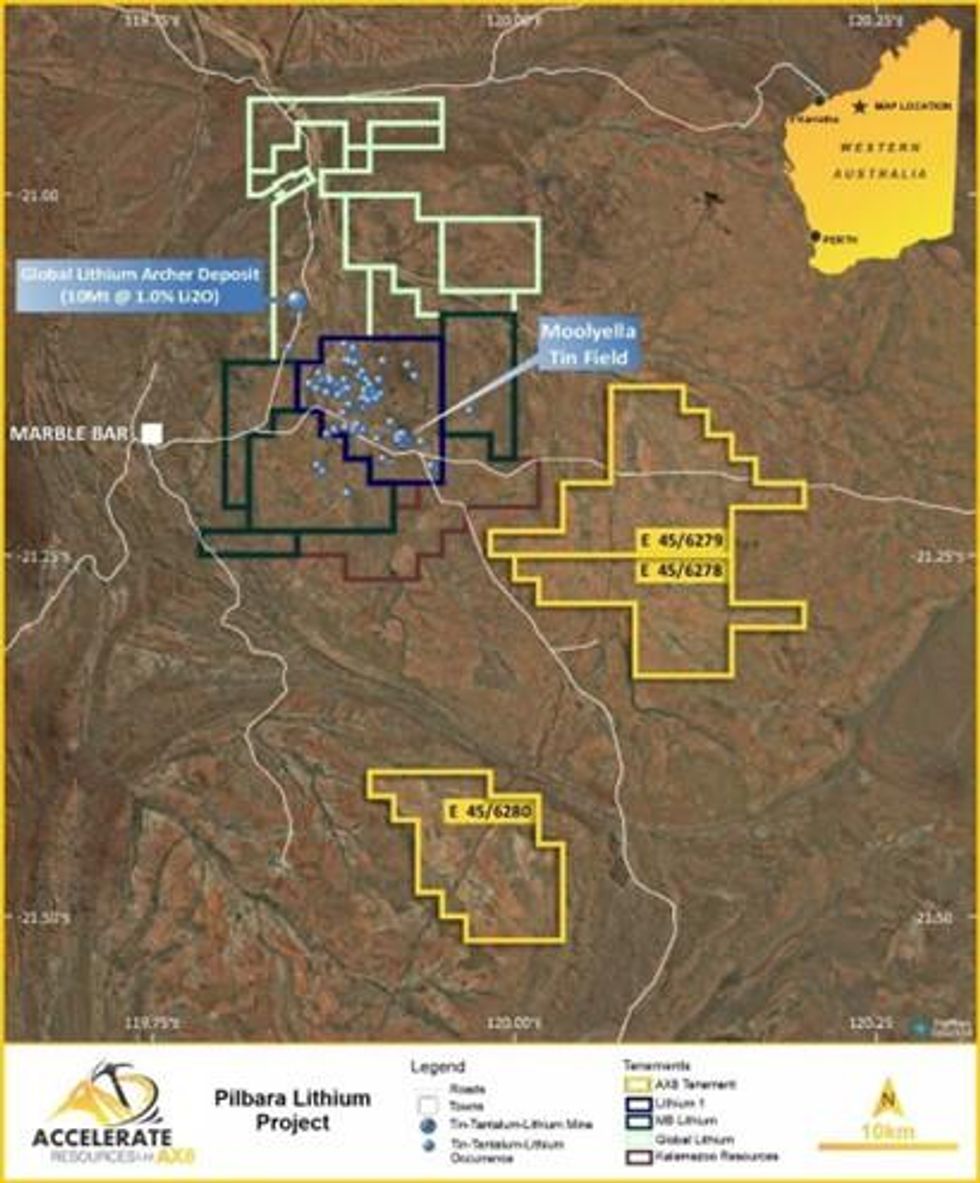 Figure 1: East Pilbara Lithium EL Applications
Accelerate's projects are located in an area of active lithium exploration and discovery which includes Global Lithium Resources' Archer deposit (10.5Mt @ 1.0% LiO2) ~30 km to the northeast and the Moolyella project held by Lithium 1 Pty Ltd (see Figure 1).
Following an encouraging initial reconnaissance sampling program earlier this year and a detailed photo interpretation, new targets have been identified with an on-ground exploration program planned for November.
Historical data has now been collated, and whilst there has been significant historical exploration for diamonds, limited work focusing on lithium or lithium-related pathfinder geochemistry has been recorded.
Desktop studies have identified priority targets characterised by multiple vein/dyke filled cross-cutting structures within the granitic plutons. Work has also included a review of the host granitic structures and neighbouring exploration activity that has successfully identified lithium mineralisation.
Based on the lithium pegmatite model successfully employed in the immediate region by other explorers, the upcoming field program will seek to follow up targets generated from the detailed photo interpretations and previously identified geophysical anomalies from historical diamond exploration.
New Target Areas
The north-western part of Accelerate Resource's Mount Creek tenement block lies within the 6 – 8.65 km zone of nominal lithium prospectivity (Target Zone) around the Moolyella Monzogranite (see Figure 2).
Click here for the full ASX Release
This article includes content from Accelerate Resources Limited, licensed for the purpose of publishing on Investing News Australia. This article does not constitute financial product advice. It is your responsibility to perform proper due diligence before acting upon any information provided here. Please refer to our full disclaimer here.
Resource investors new to the market might see quite a few unfamiliar phrases in news releases. Prefeasibility and feasibility studies are definitely two key mining terms to know.
Prefeasibility and feasibility studies are inherently linked to each other — understanding their differences creates a clearer idea of what they are and how they're used. Their key similarity is that they represent milestones for mining and exploration companies.
On that note, let's take a closer look at what exactly prefeasibility and feasibility studies are, as well as how they fit into company plans and the lifecycle of a mining project.
A prefeasibility study (PFS) is an early stage analysis of a potential mining project. These studies are conducted by a small team and are designed to give company stakeholders the basic information they need to greenlight a project or choose between potential investments. They typically give an overview of a mining project's logistics, capital requirements, key challenges and other information deemed important to the decision-making process, such as whether the operation will be open pit or underground.
Prefeasibility studies are usually preceded by sufficient mineral exploration work, including drilling, to inform a mineral resource report, a potential model of the orebody and a scoping study.
A scoping study, also known as a preliminary economic assessment or a PEA, is a study that includes initial technical and economic analysis of the potential viability of a project's mineral resources.
PEAs should include base-case data on the capital costs associated with bringing a project into production, an estimate of how the mine will operate once it is built, how much metal and money it will produce and what operating costs it will incur. PEAs help mining companies understand risks and uncertainties associated with a project by providing information on pre-production capital costs, life-of-mine sustaining capital, mine life and cash flow, as well as details on processing and production methods and rates.
Following a preliminary mineral resource report and the creation of an orebody model, a PFS acts as one of the first explorations of a potential investment. Companies use these studies to collect information before investing millions of dollars into tasks like acquiring permits or research equipment.
In addition to information relating to geological models and mine design, prefeasibility studies take into account factors that may impact or interfere with the final project. That can involve community issues, geographic obstacles, permit challenges and more.
A comprehensive PFS should include detailed designs and descriptions for the mining operation, as well as cost estimates, project risks, safety issues and other important information. There should also be multiple options included in the study for tackling different issues, as that will provide organizations with more ways to overcome potential challenges.
If a PFS results in a positive base-case scenario, the company will likely move on to the next stage, a feasibility study. If the study is negative, an organization may head back to the drawing board or abandon the potential project altogether.
Feasibility studies are in-depth reports on many of the same topics as prefeasibility studies. They are meant to be much more accurate and require more resources to conduct. Feasibility studies should offer estimates that are within 10 to 20 percent accuracy, whereas prefeasibility studies are allowed to run between 20 and 30 percent.
These studies are intended to evaluate if a mineral reserve can be mined effectively and if it will be profitable. Detailed mining feasibility studies are also used as the basis for a project's capital estimates, operating costs and overall economic viability.
At this point in the process, organizations already have large sums of money at stake and a drive to see their project through to completion. Feasibility studies are all about reducing risks and addressing potential issues that may complicate a mining project. The studies also include information that is helpful for stakeholders such as local governments or environmental analysts.
In a guide to feasibility studies, Don Hofstrand and Mary Holz-Clause of Iowa State University note, "A feasibility study is usually conducted after producers have discussed a series of business ideas or scenarios." The number of business alternatives being considered can be reduced from here.
Feasibility studies cover many important points, including economic, legal, operational and scheduling issues. Feasibility studies should be able to address questions across these topics and feature information about the technical feasibility of a project, as well as how much it will cost, whether it's in accordance with the law, how operations will work and when it can be completed.
Market analysis research can also be a vital part of the feasibility study phase. This type of research is intended to ensure that there is demand for the metal or commodity a project may produce. Market research also helps to zero in on competition in the marketplace. This type of information on markets and demand is especially valuable for investors.
Feasibility studies act as tools that provide CEOs and mining engineers with as much detailed information as possible to make intelligent and strategic decisions regarding the development of a project. Decisions will vary, but reactions to negative results can include choices like canceling projects, bringing in partners, increasing investment or changing schedules.
Both prefeasibility and feasibility studies can provide investors with useful updates on the progress of a company's project. These studies help create a more concrete picture about a company's milestones and challenges moving forward.
This is an updated version of an article originally published by the Investing News Network in 2015.

Don't forget to follow us @INN_Resource for real-time news updates!
Securities Disclosure: I, Melissa Pistilli, hold no direct investment interest in any company mentioned in this article.
Blue Lagoon Resources Inc. (the "Company") (CSE:BLLG; FSE:7BL; OTCQB:BLAGF) is pleased to announce significant mineralized intercepts from the first holes of the Phase Two 2022 drill program on its all year-round and road accessible Dome Mountain Gold Project, located a short 50-minute drive from Smithers, British Columbia. Drill results include 126 gt Au and 404 gt Ag over 0.41 meters from the Chance Structural Zone (CSZ) in hole DM-22-247
"While drilling the mineralized flat structural zone in the CSZ ("Flat Chance") we have encountered what we believe to be a new vein system of higher grade than those hosted in the Flat Chance Structure", said Bill Cronk, Chief Geologist for Blue Lagoon Resources. "The Flat Chance Structure has been drilled down dip for 400 meters and along strike for 200 meters and the structure has been hit in all holes so far. This structural zone ranges from less than 1 meter up to 15 meters thick which may host multiple gold mineralized veins and attendant alteration. Our drilling to extend along strike also intersected a new structure that lies orthogonal to the Flat Chance Structure and appears, at least initially, much higher grade, and offers another opportunity to develop additional mineralized resources at Dome Mountain."
Figure 1 Drilling on the chance Structural Zone. Not a-a' cross sections for figure 3
As mentioned, the Flat Chance is a shallow-dipping to flat-lying structural zone extending at least 400 meters down dip at about 12°dip (Figure 2). Thickness of the structural zone ranges from 1 to 15 metres. Hole DM-22-247 (Figure 1 and Figure 3) was intended to target this structure but also encountered an upper vein which ran 126 grams/tonne gold and 404 grams/tonne silver over 0.41 meters (core length) and, along with other holes which have hit this structure, points to another mineralized structure which can be defined by drilling in the near future.
Figure 2
Map shows drilling at Chance and highlights flat lying mineralized structure ( Fl;at Chance).
Flat Chance is defined downdip and open along strike. Sufficient drilling has yet to be performed to delineate resource.
Hole DM-22-247, 248 and 250 were all successful hitting the Flat Chance Structure as well as this new mineralized structure. (Figure 3). This new mineralized vein structure has a thickness of up to 1.73 meters including the vein itself and mineralized wallrock. * (Table 1).
Figure 3: Map showing cross section A-A' from figure 1. High grade vein cutting Flat Chance Zone
TABLE 2 Significant intercepts in 2022 Phase 2 drilling at Chance. Yellow highlights maximum thickness of new high grade mineralized zone drilled to date. Drilling in this area will continue as part of the 2022 Phase 2 Program.
*All intersection widths are drill indicated lengths as insufficient work has been done to determine orientations
A second drill has been added to the program. Drilling will continue to the Christmas break.
In addition to drilling, Blue Lagoon has completed a ground-based IP and CSAMT geophysical survey over the Chance Structural Zone and the Freegold Intrusion. The final report is yet to be delivered.
Soil sampling has been completed on the 2022 Dome Mountain Summer program. A total of 2,453 soil samples have been collected with results for 53% yet to be received. It is expected that the final results will be returned by mid October.
QUALITY ASSURANCE AND CONTROL
Core selected for sampling was cut in half with a core saw or split with a hydraulic splitter with one half bagged for shipping. Strict chain of custody storing, and shipping protocol was maintained. All core preparation and analyses were completed by Activation Laboratories Ltd. located in Kamloops, BC. Core was crushed, split, and pulverized with 250 grams passing 200 mesh. Each sample was analyzed for gold by fire assay with ICP-OES finish (Act Labs Code 1A2-ICP) and for multi-elements by 4-acid total digestion ICP with OES finish.(Act Labs Code 1F2) Any gold overlimits (>30 ppm Au) were analyzed by gravimetric fire assay. Standards and blanks were inserted by Company staff. The sampling program was undertaken by Company personnel and under the direction of Ted Vanderwart, P.Geo.
The scientific and technical disclosure in this news release was approved by William Cronk, P.Geo, a Qualified Person as defined in NI 43-101 and a consultant to the Company.
For further information, please contact:
Rana Vig
President and Chief Executive Officer
Telephone: 604-218-4766
Email: rana@ranavig.com
The CSE has not reviewed and does not accept responsibility for the adequacy or accuracy of this release.
Statement Regarding Forward-Looking Information: This release includes certain statements that may be deemed "forward-looking statements". All statements in this release, other than statements of historical facts, that address events or developments that Blue Lagoon Resources Inc. (the "Company") expects to occur, are forward-looking statements. Forward-looking statements are statements that are not historical facts and are generally, but not always, identified by the words "expects", "plans", "anticipates", "believes", "intends", "estimates", "projects", "potential" and similar expressions, or that events or conditions "will", "would", "may", "could" or "should" occur. Although the Company believes the expectations expressed in such forward-looking statements are based on reasonable assumptions, such statements are not guarantees of future performance and actual results may differ materially from those in the forward-looking statements. Factors that could cause the actual results to differ materially from those in forward-looking statements include results of exploration activities may not show quality and quantity necessary for further exploration or future exploitation of minerals deposits, volatility of gold and silver prices, and continued availability of capital and financing, permitting and other approvals, and general economic, market or business conditions. Investors are cautioned that any such statements are not guarantees of future performance and actual results or developments may differ materially from those projected in the forward-looking statements. Forward-looking statements are based on the beliefs, estimates and opinions of the Company's management on the date the statements are made. Except as required by applicable securities laws, the Company undertakes no obligation to update these forward-looking statements in the event that management's beliefs, estimates or opinions, or other factors, should change.
SOURCE:Blue Lagoon Resources Inc.
News Provided by ACCESSWIRE via QuoteMedia
Anson Resources Limited (ASX: ASN, ASNOC) ("Anson" or the "Company") is pleased to announce that it has received binding commitments from institutional and sophisticated investors to raise $50 million through a single tranche placement ("Placement").
Highlights:
The Placement attracted strong support from high-quality international and domestic institutional investors and is the result of 12 months of project development work culminating in a major Resource upgrade1, Binding MoU with proven DLE provider Sunresin2, and the Definitive Feasibility Study ("DFS") result announced on 8 September 2022.
The Placement provided the opportunity for a number of new institutions to join the Company's share register.
Anson's Executive Chairman, Mr. Bruce Richardson stated:
"The result of the capital raise is an outstanding endorsement of the Paradox Lithium Project and for 'made in USA' battery grade lithium carbonate. We were delighted to price the Placement at a tight discount to the prevailing VWAPs, despite immediately following a significant market downward correction.
InterestinthePlacementfarexceededAnson'srequirements, with Anson upsizing to $50 million to facilitate access to the register for quality investors. The post placement register provides a strong shareholder base upon which to progress the next phase of the Project's development.
The funds raised will allow for expanded project development workstreams and accelerate Anson toward a Final Investment Decision on the Project.
On behalf of the Company, I would like to extend a warm welcome to new shareholders and thank existing shareholders for their support through Anson's journey to becoming a producer of battery grade lithium carbonate in the United States."
Use of Proceeds
Funds raised via the Placement will be used to accelerate the development of the Paradox Lithium Project towards Final Investment Decision in calendar Q2 2023, through completion of front-end engineering design work, permitting and ordering of long lead procurement items. Funds will also be applied for further Resource Expansion, including execution of the Company's Western Strategy.
Click here for the full ASX Release
This article includes content from Anson Resources Limited, licensed for the purpose of publishing on Investing News Australia. This article does not constitute financial product advice. It is your responsibility to perform proper due diligence before acting upon any information provided here. Please refer to our full disclaimer here.
Buffalo Coal Corp (TSXV: BUF) ("Buffalo Coal Corp." or "the Group" or "the Company" or "the Issuer") advises its shareholders that Belvedere Resources DMCC ("Belvedere") has received written consent from Investec Bank Ltd to assign the convertible debt ("the Loan") of USD 27,000,000 (twenty-seven million United States dollars) purchased from Resource Capital Fund V L.P. ("RCF") for a consideration of USD 2,000,000 (two million United States dollars) ("the Transaction") in Belvedere's favour.
This transaction was first announced on June 15, 2022 and the Company is now in the process of transferring the Loan from RCF to Belvedere.
About Buffalo Coal
Buffalo is a coal producer in South Africa. It holds a majority interest in two operating mines through its 100% interest in Buffalo Coal Dundee Proprietary Limited, a South African company which has a 70% interest in Zinoju Coal Proprietary Limited ("Zinoju"). Zinoju holds a 100% interest in the Magdalena bituminous mine, the Aviemore East anthracite mine and the Balgray and North Adit anthracite projects in South Africa. Buffalo Coal has an experienced coal-focused Board and Management team.
The Company has its primary listing on the TSX Venture Exchange and has a secondary listing on the Alternative Exchange, operated by the JSE Limited.
Forward-Looking Statements
This press release may contain forward looking information within the meaning of applicable securities legislation, which reflects the Company's current expectations regarding future events. Forward looking information is based on a number of assumptions and is subject to a number of risks and uncertainties, many of which are beyond the Company's control, which could cause actual results and events to differ materially from those that are disclosed in or implied by such forward looking information. The Company does not undertake any obligation to update such forward looking information, whether as a result of new information, future events or otherwise, except as expressly required by applicable law.
FOR FURTHER INFORMATION PLEASE CONTACT:
Ms Emma Oosthuizen
Chief Executive Officer
Email: emma.oosthuizen@buffalocoal.co.za
Registered office:
Greytown Road
Industrial Area, Dundee
KwaZulu-Natal, 3000
September 15, 2022


To view the source version of this press release, please visit https://www.newsfilecorp.com/release/137322


News Provided by Newsfile via QuoteMedia
Investing News Network websites or approved third-party tools use cookies. Please refer to the  cookie policy for collected data, privacy and GDPR compliance. By continuing to browse the site, you agree to our use of cookies.