The pandemic and social distancing have not restrained apartment price increases. Even with VND1.5 billion, it's difficult to buy an apartment in the Hanoi suburbs.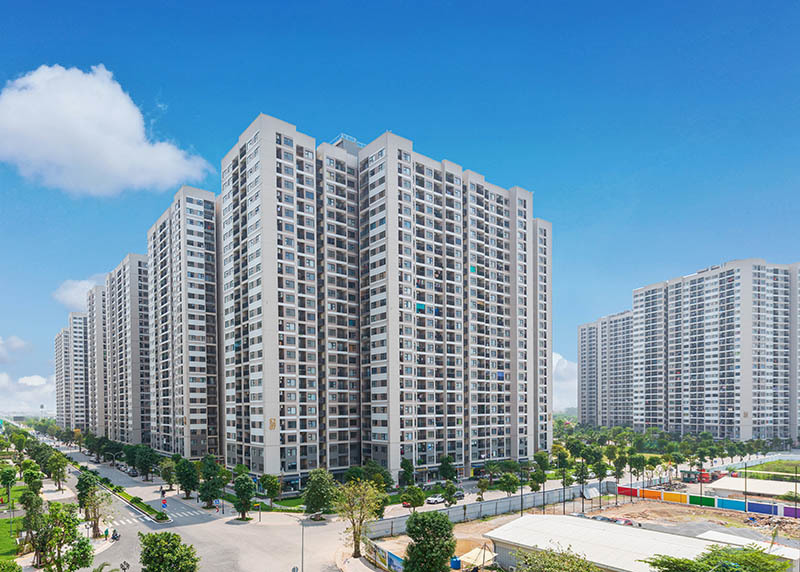 After the 2-month lockdown ended, Dinh Tuan Lam in Ba Dinh District in Hanoi began seeking information about apartments in Hanoi to buy for his son who is getting married.
With VND1.5 billion, he wanted to buy an apartment with two bedrooms. However, he was disappointed after visiting some projects. Only a few projects in the suburbs fit his pocket. As for the projects nearer to the central area, the prices were no less than VND40 million per square meter.
"I thought that apartment prices would be lower because many people have had financial problems. But in fact, the prices are higher," he said, adding that he would borrow money from a bank to buy an apartment near the central area.
The projects on sale are mostly mid-end and high-end, and no affordable housing is available, he said.
Nguyen Thi Thanh in Ha Dong district sold an apartment in the area for VND2billion, planning to move to the central area. She estimated that with the money from the sale of the apartment, plus savings, she would be able to buy an apartment there worth VND3 billion.
But after talking with brokers, she found that the amount was just enough to buy an apartment from the primary buyers who wanted to sell to stop losses. She prefers buying a newly built apartment because she wants a completely new product and redesign of the apartment's interior.
"The products with reasonable prices are far from the center, and the products in inner districts are too expensive," Thanh said.
Unable to find an apartment to her liking, Thanh and her husband now live in a rented house in the central area.
A survey by CBRE Vietnam found that apartment supply is considerably lower than in the pre-pandemic period.
In the first three quarters of the year, 11,430 apartments were put on sale, up by 7 percent YoY. In Q3, 3,483 apartments were put up for sale, down by 1 percent, 93 percent of which were from large urban areas in the eastern and western parts of Hanoi.
The sales were mostly launched in July 2021 and resumed in late September after a month of interruption because of the lockdown in Hanoi. The products on sale are mostly mid- and high-end, of which high-end products account for 65 percent.
With the sale interruption from late July to late September, only 3,000 apartments were sold in Q3, a 33 percent decrease YoY. Nearly 11,000 apartments were sold in the first nine months of the year, a slight decrease of 1 percent.
The selling price in the primary market was VND35 million per square meter on average, not including VAT and maintenance fee, up by 16 percent YoY.
Do Thu Hang from Savills Hanoi, said the primary price has increased by 10 percent per annum in Tu Liem District and 17 percent in Cau Giay since 2017. The price increase is blamed on the short supply with fewer projects launched, especially projects with clear legal status.
According to Vietnam Real Estate, real estate prices are nearly the same as the previous quarter, but the land prices at some projects in Hanoi are still at high levels, or on the rise compared with Q2. This is attributed to the high demand for these products and low supply.
CBRE Vietnam predicted that there would be 17,000-18,000 more apartments on sale in 2021. The sales are expected to recover in Q4 when activities return to normal.
In 2022, if vaccinations go smoothly, paving the way for the recovery of the economy and reopening of border gates, supply and sales may reach 25,000-27,000 products. The primary price is predicted to increase by 5-7 percent in the next three years.
Nguyen Van Dinh, Deputy Secretary of Vietnam Real Estate Association, said at a recent workshop that the market will be just like a suppressed spring, and will rebound once the pandemic is controlled.
Analysts all predict a big cash flow to the property market in the time to come, when bank deposit interest rates will no longer be attractive to people who have idle money.
Tran Dinh Thien, a respected economist, also said that the real estate market would get brighter in the long term. 
Duy Anh
Contrary to all predictions, the real estate market has been hot during the pandemic. People are rushing to buy apartments for fear that prices will escalate after the pandemic ends.
As deposit interest rates fall, cash flow has changed its direction with more people injecting money into real estate as a long-term shelter.
 
Tags: